Music at Abington Concert Series
WATCH ONLINE: Our 49th Season begins with livestream audiences as we work toward in-person events. Join us online for our scheduled events live (and re-watch later) at MAA's YouTube channel.
April 25, 4pm. Members of the Arcadian Trio (online):
Watch the livestream: https://youtu.be/XPcuPPvo-NU
Join the post-concert online reception: Zoom reception link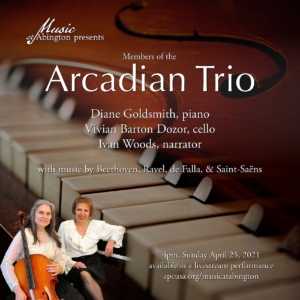 Music at Abington was founded in 1972 by G. Stanley Powell. As a concert series, Music at Abington brings outstanding professional musical programming to the Abington community for free. The series has grown to include annual features of solo and chamber music, choral and instrumental programs, children's concerts and other unique programs all supported through free-will donations and patrons of the concert series. Music at Abington builds community relationships by offering childcare and public receptions at its programs, and it celebrates and features the community-based ensembles of Abington Presbyterian Church: the Abington Symphony Orchestra and Oratorio Choir in orchestral programs and combined choral works. The purpose of Music at Abington is to bring quality musical opportunities to the APC and Abington communities and through collaboration and musical excellence to "glorify God and refresh the soul" (-J. S. Bach).